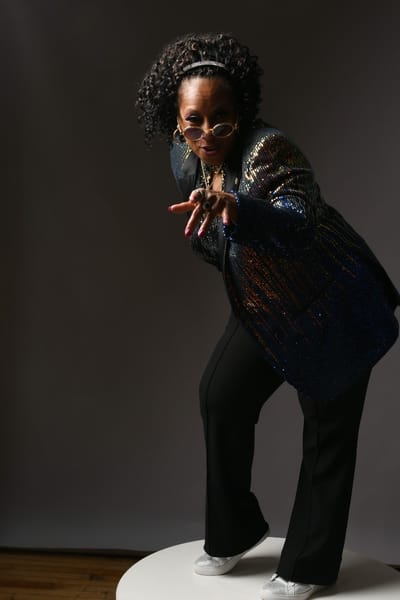 GARNETTA CROMWELL
www.garnettacromwellmusic.com
"
If Aretha Franklin & Tina Turner had a daughter, her name would be Garnetta Cromwell
."
~ Kenny "Blues Boss" Wayne (Juno Award winner & Canadian Music Hall of Fame member)
Garnetta Cromwell's story begins in Montreal as a bilingual, Afro-Metis (Mi'q Ma'q Community) Canadian girl, a musical daughter of a sophisticated strong woman and the musical background, of her father's (Cromwell) side of the family, Al Cromwell, of whom was well knowned, in the 1970s, singing the blues around the downtown core of Toronto, as well as her other relatives, like Donnie Cromwell & May Cromwell from Weymouth Falls, Nova Scotia, who were known for their style of "roots and folky kind of blues".
Watching her mother, Miss Marva Ann, use music to survive, thrive, heal, and grow; Garnetta used music for the same purpose. As a child, Garnetta had a hearing impairment that left her temporarily deaf and required surgical treatment to repair. Loving music gave her the impetus to survive, the determination to thrive, the peace to heal and a reason to grow.
She diversified her musicality at a young age with a passion for gospel, blues, country and soul music. Following her sisters in talent contests, Garnetta was a child performer in costumes tailored by her mother and performing hit songs from The Supremes, The Staples Singers and The Jackson 5. With her bold, rich tone and innate talent; Garnetta became the lead vocalist in a junior choir, often performing with her sisters.
Garnetta reflects on recording "Miss Marva Ann" - "I felt compelled to write a song tribute to my mother, Marva Ann Fairfax. She was raised in the 1940s, in a very strict home as the only daughter with two brothers. My mother's strength to feed, clothe and most importantly, protect her six girls, empowers me to this day."
"Dance & Shout, It's A Woman's World, was inspired by my upbringing", she relates. "It's an anthem to all women, meant to empower and inspire. I inherited my mother's will to fight and survive in any circumstance; I hope my songs will connect with many audiences."
As Garnetta continued her music journey, she became the lead vocalist and drummer for Toronto's only female reggae band Sweet Sensation,
performing on the same stage with Platinum/Grammy Award artists Maxi Priest, Shabba Ranks, Shaggy, Gregory Issac, Sean Kingston and Platinum/Grammy soul legends Percy Sledge, Dorothy Moore and The Manhattans.
Retreating from the group, she returned to Nova Scotia to pack up life and be with family during a time of loss. Relocating within weeks, Garnetta scooped any job she could to pay the bills. After a restructuring promotion at one of those jobs, Garnetta was placed under the supervision of a racist and violent individual. Needing to move forward, she registered with the Canadian Armed Force Reserves. Meanwhile working as a Correctional Officer, Garnetta was treated with incredible levels of disrespect and indecency, which put her in a dark and angry place.
Emerging from the darkness, Garnetta joined Bonafide, a R&B band in Nova Scotia and set off for happiness, success and change. Garnetta soon experienced loss again when her nephew in Ontario was shot and killed. Filled with sadness and anger, Garnetta channeled that energy through the sport of Olympic Weightlifting and the power of music.
Focusing on weightlifting for physical and mental health, within six months of training Garnetta won a gold medal and set a new Ontario record which led to competing in the Pan-Am Masters Canadian Games in 2018. Winning two gold medals and setting new Canadian records, Garnetta was heading to the 2019 World Championships in Montreal, Quebec when an accident with a dump truck robbed her of her ability to compete. In October of 2021, her eldest son was shot and injured. By this time, Garnetta admitted that she needed to heal. She turned inside with self-reflection about life and her music. She decided it was time for her to take the reins and lead her band, DaGROOVMASTERS, on a full-time basis. She committed to creating the music that was the soundscape to her story and to live her best life.
GARNETTA CROMWELL & DaGROOVMASTERS is a classic
SOULFUL BLUES
Band that delivers a high-energy show. They are a reflection of Canada's multicultural society. Their upbeat music brings pure joy to all listeners. Garnetta has been in the studio recording with many notable musicians and has graced the stage with Juno and Maple Blues Award recipient, Hall of Famer, the King of Boogie Woogie, Mr. Kenny "Blues Boss" Wayne.
GARNETTA CROMWELL & DaGROOVMASTERS performed at the 24th Annual Southside Shuffle in September 2022, one of Canada's best known blues festivals. GARNETTA CROMWELL & DaGROOVMASTERS won the Toronto Blues Society's (TBS) Talent Search in July 2022, which earned them a spot to compete at the finals in the International Blues Challenge, being held in Memphis, Tennessee, which takes place January 24-28, 2023.
Their style of upbeat music brings pure joy to all listeners and they continue to spread their soulful & funky fusion blues sound throughout their live performances. Please feel free to visit their Youtube channel, under GARNETTA CROMWELL & DaGROOVMASTERS.
GARNETTA CROMWELL performed at the 35th Annual Women Blues Revue held at Massey Hall, on November 25, 2022, alongside Ann Vriend, Miss Emily, Angelique Francis, Selena Evangeline and Suzzie Vinnick, who are some of Canada's top female blues singers. GARNETTA CROMWELL closed the show with a powerful performance and received a full standing ovation.
Their first Blues single, "Miss Marva Ann", was released January 2022. As of May 2023, GARNETTA CROMWELL & DaGROOVMASTERS are recording their first full album with Ken Whiteley as their producer.
"Time to Shine" is the name of the upcoming album and is scheduled to be officially released fall 2023.